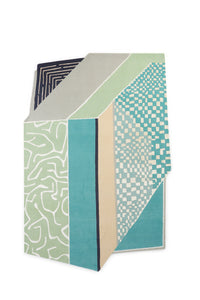 Hatsu
Moire
Regular price
Rs. 70,000.00
Rs. 0.00
Unit price
per
Moire rug was inspired by the mesmerizing moire effect that showcases an intriguing interplay of pixels, creating a subtle optical illusion that draws the eye. In another part of the design, a maze-like pattern emerges, inviting exploration and adding an element of intrigue. The fresh turquoise color palette breathes life into any space, infusing it with a vibrant charm. With its unique blend of patterns and colors, this rug is a delightful addition that will surely elevate the ambiance of any room.
Type          Hand-knotted
Material    100% Merino Wool
Size           66 x 96 in (5.5ft x 8ft)
* Customize a rug in any shape, size, design, color and material as per your requirement. 
---